Reign Check: Talking Alex Lintuniemi and Jordan Weal for JFTC
By Thx Bud
In Blogs
Sep 30th, 2015
0 Comments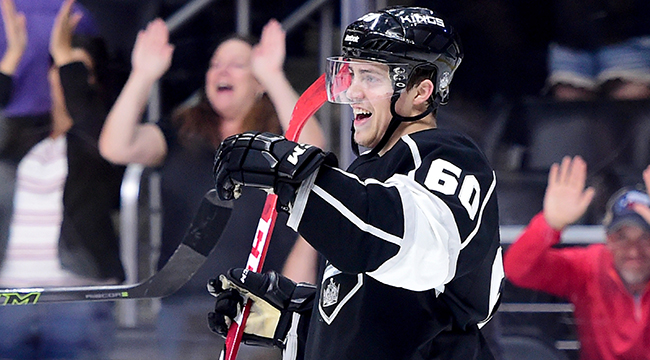 As preseason winds down, Jewels from the Crown is wrapping up their 2015 Top 25 Under 25 series on the LA Kings players and prospects. This year they asked THX BUD to contribute a couple posts. We were excited to show some written affection for two prospects — Jordan Weal and Alex Lintuniemi.
On Lintuniemi:
If you're looking for a defenseman that really shows the Kings thinking outside the box, you're not going to find that in Alex Lintuniemi. At 60th overall, Lintuniemi was the second defenseman the Kings chose in the 2014 draft. He's from Helsinki, Finland and listed at 6'3″ and 231 pounds at 19 years old. Goodness gracious. That's exactly what the Kings love.
On Weal:
After a stellar 70 point regular season prior to this one, the 2014-2015 season was his time to improve upon that and shine. Shine he did! Admittedly, he was a point behind his previous regular season points record on the Monarchs, but he played 3 fewer games, so he gets a pass for that one. He scored 20 goals and 49 assists for 69 points, a near point per game player and enough for third in scoring in the AHL in the regular season. His offensive success helped lead the Monarchs to the Calder Cup Playoffs where they entered as best in the league during the regular season, and he continued his scoring streak, breaking some Manchester Monarchs records in the process.
Related Posts By Category