Week 4 Preview: Flyers, Penguins and Red Wings
By Diane Phan
In Blogs
Oct 28th, 2014
0 Comments
It's been a lengthy and successful homestand, but now the Kings take their show on the road to see what challenges the East has for them.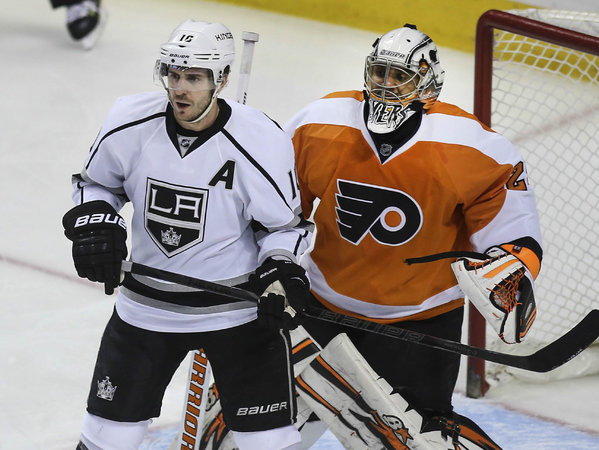 Kings at Flyers
Tuesday, October 27th
4:00 PM PST
After leaving the game during the second period of the Kings tilt against the Blue Jackets, fans were more than a little worried about the status and health of Anze Kopitar. Not only because he's a wonderful Slovenian prince, but because he centers the Kings 1st line. Good news though, he's probably just fine.
As we like to say, things have a way of changing, but sounding as though Kopitar will miss at least one game. #Caution

— lisa dillman (@reallisa) October 28, 2014
With him out for this game and the Kings already hurting with injuries to their forwards, who will we see at center? Is this Mike Richards time to shine? I don't know if you know this, but Mike Richards used to be the captain of the Flyers. You might have missed that because it's not like it isn't going to be mentioned by everyone, forever (including me apparently). Just imagine, Mike Richards and Jeff Carter centering the Kings top 2 lines for that one-two punch of rubbing it into Philly's face. I am here for that.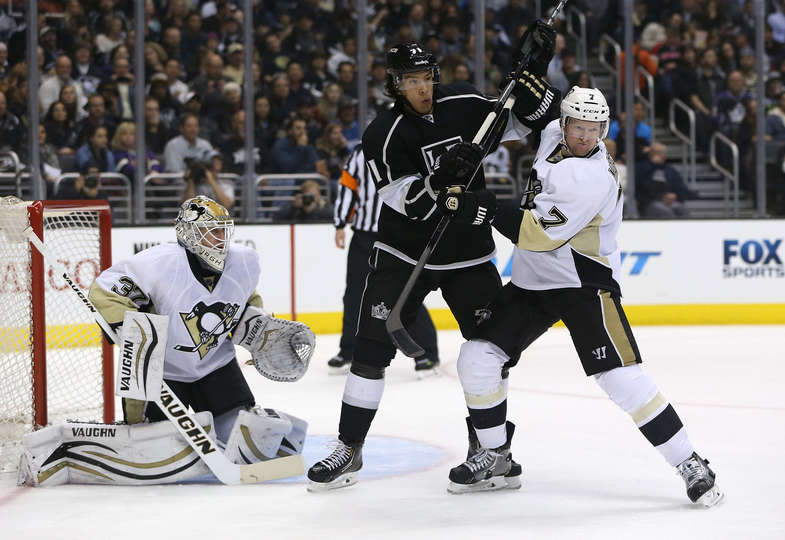 Kings at Penguins
Thursday, October 30th
4:00 PM PST
The Kings are rolling hot with That 70s Line which boasted 10 points in the last game alone, but the Penguins have their own sharp shooters doing work for them. Sidney Crosby leads the team (of course) with 12 points and 2 goals and 4 assists in the last 5 games. Hornqvist, Kunitz and Malkin have also scored 2 goals and a handful of assists apiece in the last 5 games with Evgeni Malkin attaining at least a point in every game the Penguins have played.
The Penguins also have power play success on their side. The Kings 8th ranked penalty kill will have to battle with the Penguins power play with a 40% success rate, number one in the league. On the flip side, the Kings 18th ranked power play will go against the Penguins, er 18th place penalty kill. Let's just not take dumb penalties and give them the opportunity, ok?
Yes, I know this is wishful thinking. Yes, Jarret Stoll will likely take an o-zone penalty 5 minutes into the first. I KNOW.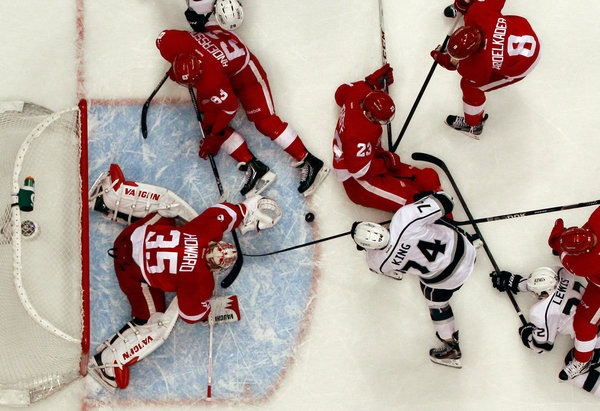 Kings at Red Wings
Friday, October 31st
4:30 PM PST
It's a halloween matchup between the Kings and the Red Wings, and who wouldn't be excited to see this?
Oh, Bob Miller is back on track: "We're going to spend Halloween in Detroit, Michigan. How lucky can we be?" #allhedoesistroll

— Sheng Peng (@Sheng_Peng) October 26, 2014
Hmmmm, he's got a point.
History is not on the Kings side for this road game though as the Kings haven't won at the Joe Louis Arena since March of 2011. Special teams might not help the Kings much either. While the Kings middling power play is about league average, the Red Wings penalty kill is tops in the league at 96.2%.
Never forget this though:
Honestly, as long as this kind of bullshit doesn't happen again, I'll consider it a win.
Related Posts By Category