Week 8 Preview: Perds, Wild, and Blackhawks
By NyLaKy
In Blogs
Nov 23rd, 2014
0 Comments
Somehow we've already arrived at Thanksgiving week, which just so happens to be the week that NHL prognosticators everywhere generally deem as a decidedly accurate preview of the playoffs, despite that fact that they are still a solid five months away.
Granted, in this era of salary-cap parity and 3-point games, I'm betting those predictions are more and more inaccurate every year. Currently in the West, there are five points separating 1st and 8th place. Ten points separating 1st and 13th place. Only Edmonton is too far behind to even bother with.
That being said, if the Kings wish to hold onto their playoff spot through "American" Thanksgiving (it's just Thanksgiving, guys), they have their work cut out forthem. Currently 6th, another egregious road trip and they will assuredly slip out of the top 8, although we'll all probably be in too big of a food coma to notice or care.
KINGS @ PREDATORS
Tuesday, November 25th
5:00 PM PST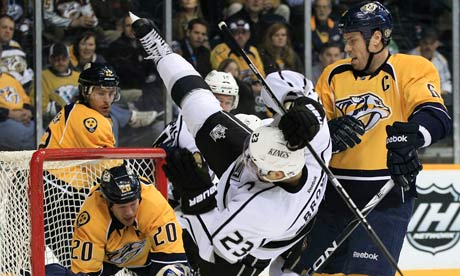 The surprising Predators sit 2nd in the Western Conference, just 1 point behind Anaheim after failing to make the playoffs for the past 2 seasons. They are being led by a top line of new additions: James Neal, formerly of Pittsburgh Penguins and cheap shots fame; Mike Ribeiro, most recently bought out by the Arizona Coyotes for alleged behavioral issues; and Filip Forsberg, the rookie sensation grabbed from Washington for Martin Erat in what has to be one of the worst trades of the past decade. Forsberg is killing it, leading all rookies with 22 points in 20 games. The line has recently been discussed as possibly the first legitimate top line in Nashville's history.
Nashville has a bangin' home record (7-1-1), is 7-3 in their last 10 games, and their 9 goals vs. the Maple Leafs last week caused the population of Toronto to enter meltdown mode. A healthy Pekke Rinne is amongst the leaders in nearly every goalie category this season after missing almost all of last year to hip surgery and then a subsequent infection.
A 3rd career Jeff Carter hat trick vs. the Predators should just about do the trick.
Last season, the Kings went 1-2 vs. Nashville, with their lone win coming in a shootout.
KINGS @ WILD
Wednesday, November 26th
5:00 PM PST
The Wild have had a rather weird start to the season, stringing together equally impressive winning streaks and losing streaks, and thus their place in the standings has been rather tumultuous. They rattled off a 4-game losing streak after a 3-game winning streak, then followed that losing streak up by winning 4 in a row before falling to Tampa Bay on Saturday. They currently sit at 10th in the West despite being the strongest possession team in the NHL this season, a pretty decent indication that they are a better team than the current rankings show.
Their power play being a woeful 28th (9.7%) could have something to do with it. Thomas Vanek also has just 1 goal on the season, which, if you're counting, is 2 less than Trevor Lewis.
The Kings beat the Wild 2-1 in October for their only meeting thus far this season.
BLACKHAWKS @ KINGS
Saturday, November 29th
7:00 PM PST
Alas, it's here.
After a 7-game Western Conference Final that was enthusiastically cheered as one of the greatest playoff series of all time, it's impossible not to eagerly anticipate the first meeting between the Kings and the Blackhawks since Alec Martinez crushed the repeat dreams of Chicago last June.
However, with both teams currently middling in the bottom half of the Western Conference (Chicago just this week finally claiming a playoff position), and both teams littered with seasoned veterans with multiple championship rings to their name, it seems unlikely that either the Kings or the Blackhawks will put too much weight on this one game, because they know it's just that: one game.
The great thing about the Kings and Blackhawks, unlike a lot of other rivalries in the NHL, is their seemingly profound respect for one another, with their games never descending into pedantic shenanigans. It's easy to declare that each team will be measuring themselves up against the other, but both are fully aware of their capabilities, and undoubtedly have every intention of meeting once again in the Western Conference Finals for a third straight year. I wouldn't anticipate anything to be on the line Saturday other than 2 conference points, albeit an entertaining 2 points.
Last year the Kings went a spectacular 0-3 agains the Blackhawks, with 4 goals in 3 games. Somehow, it doesn't really sting too much.
BOLD PREDICTION:
Alec Martinez returns on Saturday, scores in OT, and Jamie McBain is never heard from again.
Related Posts By Category