Capitals at Kings: Lewis Stands Up To The Government
By Chanelle Berlin
In Blogs
Feb 15th, 2015
0 Comments Kings: 3, Capitals: 1
It took four periods, but the LA Kings finally, finally figured out how to score a goal on Braden Holtby this season. When in Washington just 11 days prior, they laid an egg and made fans and media people alike question whether they could make the playoffs. A Saturday night win against the Capitals means they've now won four straight and are still in the playoff hunt.
All they needed was Dwight King…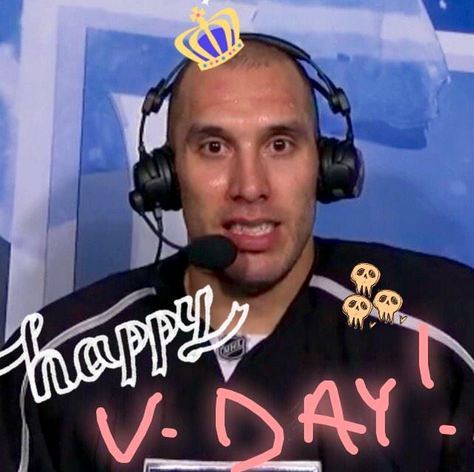 And a true American hero who could really take on the nation's capital.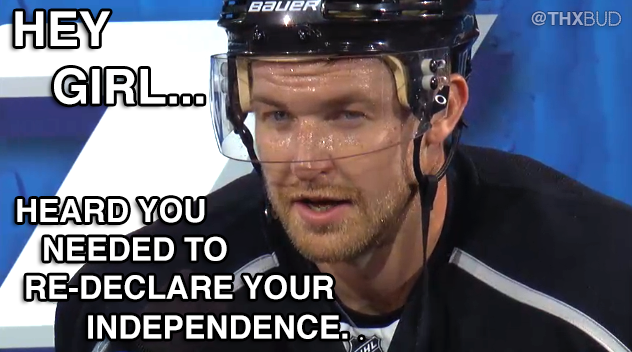 Though the Kings had control of the game for nearly the entire night, that didn't stop the Capitals from getting some really fortunate opportunities. In the first period, goaltender Jonathan Quick had to make not one but two desperate saves, including this diving stop on a Troy Brouwer attempt in tight.
Jonathan Quick went a bit nuts on this play, but got his body across the goal line to stop it. #LAKings #SixSaves pic.twitter.com/m65kG2OMgO

— Greg Balloch (@GregBalloch) February 15, 2015
He looked less scrambling as the game went on and eventually finished the night with a .964 save percentage.
The skaters also finally started to catch breaks to help him out. It began with King cleaning up the garbage on Tyler Toffoli's shot from the slot to break the 0-0 deadlock. Lewis really did have the highlight goal of the night, however. Seventeen seconds in the third period, he went full speed through the neutral zone with birthday boy Marian Gaborik, received a pass across the middle from him and went to the backhand to sweep around Holtby and slide the puck into a wide open net.
caught you cheatin', boo pic.twitter.com/C0GWFenYaL

— LA Kings (@LAKings) February 15, 2015
Gorgeous game-winner and new career high in regular goals.
We probably shouldn't have been surprised about it. Fox Sports West did say early on that Lewis was a guy to keep an eye on that night.
Trevor Lewis: STAR POWER pic.twitter.com/TrQNeaR9IS

— THX BUD (@thxbud) February 15, 2015
Quick gave up a goal to a shot he should've seen all the way not long after, but it was also off an Alex Ovechkin one-timer. It could've been worse.
Luckily it didn't matter in the end. Quick stopped his recent trend of allowing two or more goals per game, and Jarret Stoll provided some insurance for the Kings with a perfect little tip-in.
Redeeming themselves some versus the Capitals by securing a Valentine's Day victory? Ugh, that's great. Putting together a streak just when people were ready to start writing the Kings off? Dang it.
Maybe we do, Kings. Maybe we do.
@thxbud The Kings have won four games in a row after being on the brink of elimination from playoff contention? I never saw this coming.

— Fear The Fin (@fearthefin) February 15, 2015
Related Posts By Category