Game Day Preview: Kessel Me, You Fool!
By Chanelle Berlin
In Blogs
Jan 12th, 2015
1 Comment
Yesssss, it's finally here!
It's Kessel Day! It's Kessel Day! A holiday that only comes once a year for me, as a Kings fan. It's the day when Phil Kessel comes to town, and I spend all day working his most infamous quotes into casual conversation.
This year, I get to work in a couple of really great ones. First, there's: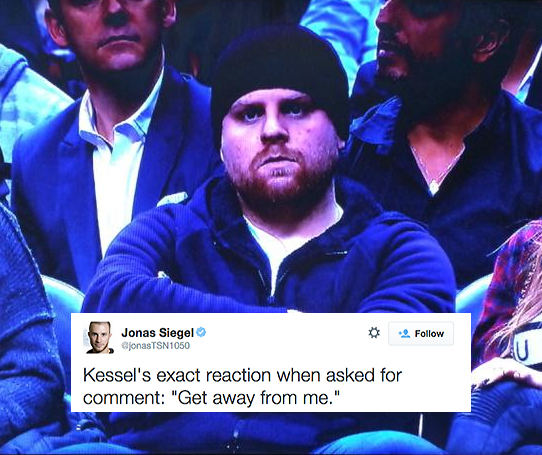 Such a pretty pearl of wisdom. Good for every occasion. In truth, that picture combines two glorious Kessel moments into one, but I think this is the way to go for maximum effect. Tell your enemies and frenemies to get thee gone while assuming the Kessel at the Raptors Game pose. Effectiveness rate is 100 percent. Guaranteed.
Secondly, should anyone criticize anything I do today, there's also a way to handle that now.

(Gifset by philkess on Tumblr.)
Phil Kessel doesn't suffer fools and neither will I.
Toronto Maple Leafs fans and media can't stop talking about whether Kessel's the problem for the that team. They're addicted to it. Former head coach Randy Carlyle had been a well-documented sort of terrible for the Leafs for years, and yet even his firing prompted stale Kessel debate rather than endless Braveheart-style "Freedom!!" chants.
Yeah, yeah, Carlyle won a Cup with Anaheim in 2007, but still, the greatest thing he ever did was not become the coach of the LA Kings after Terry Murray was let go.
You're the real MVP, Randy!
Meanwhile, Kessel has 43 points in 42 games, ranking him the 10th most productive player in the league right now. Since he started playing for the Leafs in the 2009-10 season, Kessel's 16th in points per game among active players (250+ GP), but I'm sure he's the problem. It probably has so little to do with the coach who was terrible at instilling defensive structure, and I bet it's not at all related to the fact that Tyler Bozak has frequently been Kessel's center the last few years or that Dion Phaneuf is the defenseman Kessel's spent the most time with on ice and for some reason, when they're together, they make each other worse.
Luckily for Kessel, he gets to go to the All-Star Game later this month, where he might have a chance to play with two real number ones in Anze Kopitar and Drew Doughty.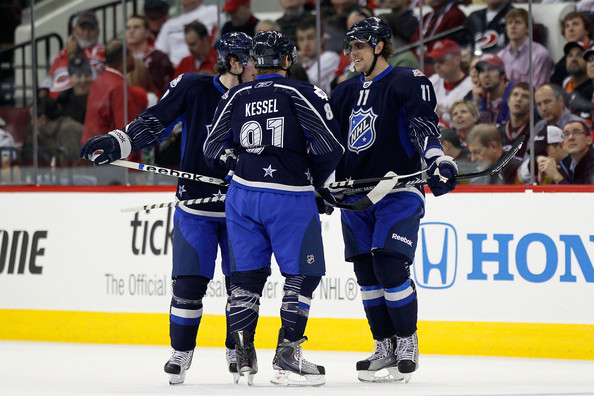 Kessel explains the plan for sneaking him out of TOR to a superhero.
But first, the Kings must try not to freaking lose to the Toronto Maple Leafs again. The Leafs beat the Kings earlier this season, 4-3 in a shootout. Last year they beat the Kings in regulation at Staples Center despite the Kings thoroughly outplaying them all night long. The Leafs then went on to lose eight consecutive games and fall out of the playoff picture while the Kings won the Stanley Cup.
Last year's tiny sting doesn't even register for the Kings now, but this season both teams find themselves in a somewhat similar standings position. The Leafs have fallen just out of the playoff picture while the Kings are hoping for two more points to help get them break back into the top three in the Pacific Division.
With Tyler Toffoli out with mono (no!) and Tanner Pearson sidelined with a fractured fibula (why!), the Kings have called up Nick Shore from Manchester to soon make his NHL debut. The Leafs will face a somewhat depleted Kings team, but it at least means they also get to really see what's up with future Leafs alternate captain Mike Richards these days, thanks to his inevitably increased ice time.

Mike Richards, in the best shape of his life, probably taking a tripping penalty.
Most importantly, the Kings' top line has been pretty effective lately. Kopitar will probably be tasked with shutting Kessel down before he gets to build him up at the ASG. No matter what happens, the winner is me.
"Just the Way You Are" but about Phil Kessel

— Chanelle Berlin (@chanelleberlin) January 6, 2015
Leafs @ Kings
7:30PM PST
Fox Sports West
Related Posts By Category
1 Comment to "Game Day Preview: Kessel Me, You Fool!"