Kings at Leafs: Not This Again
By Chanelle Berlin
In Blogs
Dec 14th, 2014
2 Comments
The Kings lost to the Toronto Maple Leafs in the shootout. Though the result is not what Kings fans want to see, it was another game where fundamentally the team didn't play poorly. Eventually luck will turn around for them. Play this song on repeat.
Quick hits, because it's Sunday, and I've got a holiday party to attend —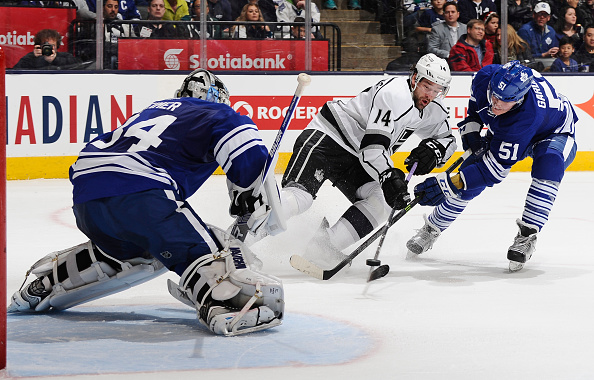 THE GOOD
Possession, possession, possession. At even strength the Kings are still managing to clean things up. Score effects account for some of this, since they did go down 2-0 in the first period. Overall, the Kings still dominated the majority of the game, out-attempting the Leafs 71-42.
They also actually managed to come back from that two-goal deficit, thanks to goals from Justin Williams, Dwight King, and Marian Gaborik.

The Gaborik goal gave the Kings the lead until another failed penalty kill allowed the Leafs to tie it. Which leads me to…

THE BAD
Special teams are a mess right now.
Perhaps that's not entirely fair. They aren't even completely bad, just bafflingly ineffective. Since the start of the Kings' road trip, they've allowed four goals in twelve kill situations. They've scored one power play goal on 13 opportunities with the man advantage.
This means that in four games, the Kings' penalty kill is clipping along at a dismal 66.7 percent while the power play limps along at 7.6 percent. Woof.
Since the Kings have been a team that takes a lot of stick penalties in the last few years, having an ineffective PK hurts a LOT. It hurts even more when they can't score at even strength or on their own power play chances.
All of this might smooth out soon, but for now it means the Kings could only escape with a point. The good news is that point was enough to push them back in the playoff picture. So… not all bad?
Related Posts By Category
2 Comments to "Kings at Leafs: Not This Again"