Jonathan Quick's elite goaltending mask
By Chanelle Berlin
In Blogs
Nov 19th, 2014
0 Comments
This story actually starts on Sunday evening. During the third period of the game between the Montreal Canadiens and the Detroit Red Wings, rookie goaltender Dustin Tokarski had his shutout spoiled by Riley Sheahan's power play goal.

What made the goal slightly controversial for Tokarski is that he'd tried to indicate to referees that his mask had come loose. Unfortunately, NHL rules only require refs to blow play dead if a goaltender's mask comes off.
Former ref Kerry Fraser explained this in his TSN column on Tuesday:
Rule 9.6 is very clear on the subject as to when the referee should stop play: When a goalkeeper has lost his helmet and/or face mask and his team has control of the puck, the play shall be stopped immediately to allow the goalkeeper the opportunity to regain his helmet and/or face mask. When the opposing team has control of the puck, play shall only be stopped if there is no immediate and impending scoring opportunity.

Tokarski did not lose his helmet and/or face mask as cited in the above rule but instead it remained in position and provided normal protection in spite of the unbuckled snap. As a result, it is most reasonable for the referee to judge that a broken strap did not compromise the goalies safety nor should it impede the goalkeeper's ability to defend his net.
This leaves a goaltender like Tokarski in a bind, because it's also against the rules for him to throw his mask off purposefully if it comes loose but doesn't fall. That doesn't leave goaltenders entirely without options, but they can't be afraid to get their hands dirty.
More from Fraser:
There is a more 'cagey' way for a goalie to 'flip' his damaged mask off with a series of head shakes and not incur the delay of game penalty. Jonathan Quick of the LA Kings is quite proficient in this area of expertise.
Excuse me?? Is he saying that Quick is anything other than absolutely, 100 percent squeaky clean while playing this pristine game that we call hockey? How dare. In fact, let's look at the incident the Kings' game later that day provided.
Though there were stretches where the Kings played well in their 5-2 win over the Florida Panthers on Tuesday night, the score doesn't reflect how well the Panthers played for much of the game.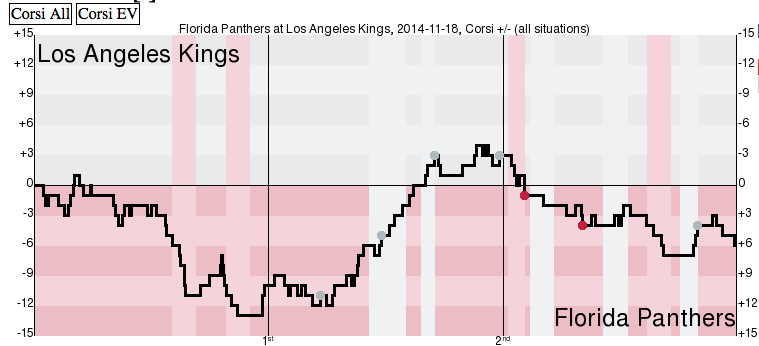 (Chart from Natural Stat Trick.)
Check out the shot attempts on the two Panthers power plays in during the first period. It was during one of these kills that the Kings really struggled to get out of their zone, and then Quick's mask came off and the Panthers' attack finally paused.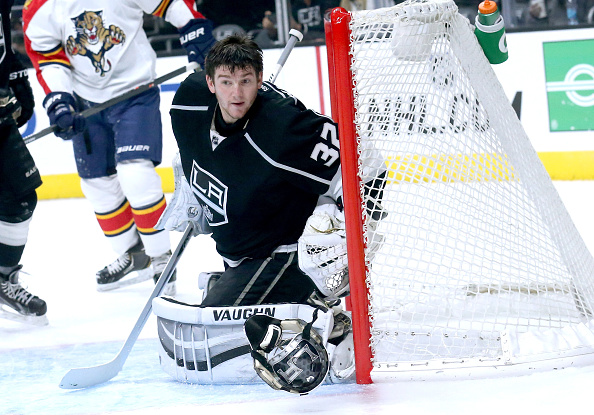 The best person on that penalty kill was Jonathan Quick popping off his mask.

— THX BUD (@thxbud) November 19, 2014
To be fair to Quick, he did take shots off the mask early in the game.
I still can't wrap my hear around the idea of being a goaltender without a mask. pic.twitter.com/CHGoam1lip

— All The Kings Men (@KingsMenPodcast) November 19, 2014
It's entirely possible that his mask was already loosened because of legitimate face saves. Still…
Oh, my god. Taylor Swift, did you see what we just saw?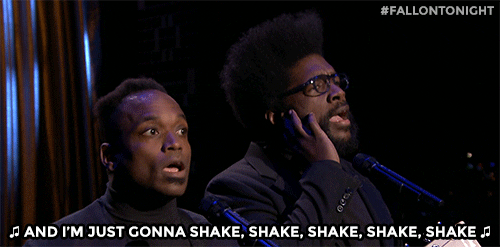 Quick absolutely shook off his mask in order to help out the Kings' skaters who just could not regain control of the puck and alleviate pressure during the penalty kill.
Hey, it's only the wrong move to make if he gets caught by the referees, right? This is a prime example of what Fraser said that Quick is good at doing. Don't hate the player; hate that he's so good at working the game.
Really, I think this is a lesson for Dustin Tokarski. Take note, young gun. Learn from primetime TV's best in the business.
Related Posts By Category