Kings at Sharks Game Day Soundtrack: Mutant Fish and Turtles
By Chanelle Berlin
In Blogs
Nov 27th, 2013
0 Comments
LA Kings
16-6-3
5th in the NHL
35 PTS
L10: 7-0-3
3rd in the Pacific Division
San Jose Sharks
15-3-5
4th in the NHL
35 PTS
L10: 5-2-3
2rd in the Pacific Division


1. You Know, 'Cause They're Not Normal Sharks: LL Cool J — Deepest Bluest
The great thing about the existence of "Sharknado" and "Sharktopus" is that reaching back to 1999 to tap "Deep Blue Sea" is now vintage! Anyway, this is an obvious and cheesy choice for the Sharks, but they love obvious and cheesy (power play shark chomp, come on), so I'm surprised the players don't just skate through that huge facade that makes it look like a giant shark is vomiting out Logan Couture to this tune.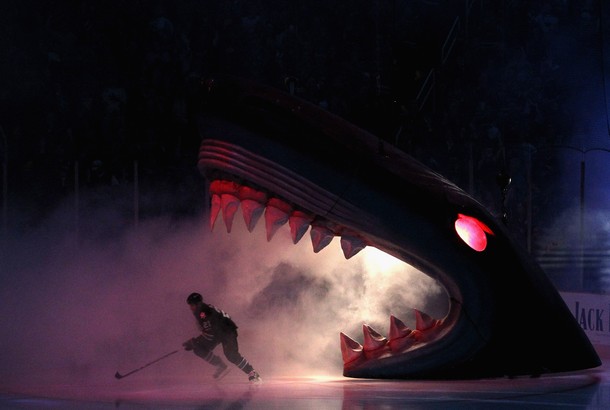 Maybe they don't because, as heinous as this movie and song are, the HUMANS WIN IN THE END.

2. Teenage Mutant Ninja Hertl: Partners in Kryme — Turtle Power
Tomas Hertl was a non-factor in the last Kings-Sharks matchup, but I still worry that my favorite hockey team will help him get his second career hat trick. It's especially worrisome if the Kings are planning to give up a parade of penalties like they did against the Canucks, because the Sharks' special teams have been slumping recently, but it probably wouldn't take them eight penalties to convert one power play goal.
Hertl has 18 pts in 23 games, leading all rookie players in scoring. However, Kings rookie Tyler Toffoli is on pace for similar impressive numbers with 9 points in 11 games. Since Toffoli's been moved to the third line, they may not face each other much, but this girl can dream.

3. Think About Brent Burns' Gums: Bush — Mouth
Brent Burns likely had a concussion, but the team kept calling it a mouth injury since it all started when Ottawa Senators goalie Robin Lehner got his stick all up in Burns' grill. He's been back in the lineup for a couple games now, which is great for him but could be problematic for the Kings. So far this season, the Sharks tend to score more with Burns active. According to Bleacher Report, "the team averages 4.4 goals per game with Burns in the lineup compared to just 2.46 without him and has failed to score four goals just twice in the ten games with Burns present."
Meanwhile, the Kings are averaging 2.52 goals per game and have scored 2 or less goals in six of their last 10 games. Ehh, boy. Ben Scrivens allowing only nine goals in his last seven starts has really kept them in it.

4. LA's Boo Jeff Carter: The Angels – My Boyfriend's Back

(Stick tap to @shananaomi for DMing lyrics from this when Carter got activated.)
Despite scoring trouble, the Kings managed to pull out a whole bunch of wins without Jeff Carter. (Again! Scrivens!) Still, it never hurts to have the team's scoring-est player back on the ice. Before he injured his foot helping the Kings beat San Jose in overtime on Oct 30, Carter was leading the Kings in goals. He notched a primary assist in his return game despite somewhat limited ice time and, afterward, said he continued to feel good.
If having Toffoli and Carter in the lineup simultaneously can help the Kings generate more scoring chances and actual goals, Ben Scrivens might not have to pull out quite as many miracles. Wouldn't that be something???

5. The Hard, Cup-less Facts: Go West – King of Wishful Thinking
Never forget that the San Jose Sharks are the only California team without a Stanley Cup. Always remember who knocked them out of the playoffs last season.
Los Angeles has the real "Kings of California." If you pretend the girl being referred to in this Go West song are the Sharks' Cup chances, then it all fits. There's even some random roller hockey in the video to really aid you in this laughing session. The Kings have a hard time pulling out wins in the SAP Center, but even if they take 7 million more penalties and lose, they're still better. That's just the truth.
It pains me to say this but, now that Detroit's gone, Anze Kopitar is probably the best center in the Western Conference.

— Fear The Fin (@fearthefin) November 22, 2013

WATCH
KINGS vs. SHARKS
7:30PM PT
Fox Sports West
Related Posts By Category