LA Kings at Vancouver Canucks: Winning it For the Dads!
By Diane Phan
In Blogs
Nov 26th, 2013
2 Comments
I feel like I'm constantly reiterating myself, like this game narrative is the Los Angeles Kings version of a Hero's Journey. Say it with me friends: the Kings had a decent first period, played a good possession game and had some good scoring chances, and in this case a goal. The second period was a shit show! The third was much better, and the Kings staged a comeback to force it to overtime. WHERE HAVE I HEARD THIS ALL BEFORE?
First of all, first star of the game to the Fox Sports West video crew. As we all know, it was Jeff Carter's first game back, and FSW had us all covered by lovingly showing extended shots of him every chance they could get. Thanks for looking out, friends. Also, for spending a good couple of minutes showing and talking about his skates because fuck everyone else.
I actually found the equipment talk kind of interesting.
The first period did that thing where the Kings played well and gave us all false hope for a solid, dominant game. Carter fired off the first shot, but was saved by Luongo. Ok, but how nice would that have been though? C'mon, Jeff Carter, I expected more. Linden Vey got his hustle on to gain possession and got himself a little breakaway 5 minutes in. No goal or anything, but I'm super charmed by all the young guns, so it was nice to see.
Vey loves to pass that puck, and he shined again with a nice little pass to Clifford who fakes and backhands it in past Luongo.
Fourth line getting things started.
A solid 1st period with a one goal lead, but don't get your hopes up, don't you dare.
Ah, the second period. Unless you paid zero attention to this game, you know exactly what kind of shenanigans flared up during this time. The Kings could not stay out of the box for the life of them. It was 5v5 then 4v4 then 4v3 for 32 seconds, and then I gave up and just accepted that there were going to people playing a hockey game on the ice, but how many guys for how long? Who knows, who cares, apparently. Stoll and Mitchell took penalties 13 seconds apart because everything is terrible.

At one point Mike Richards was standing in the penalty box because there was no room. That's not the bench you should be hanging out on, buds.
As dumb as some of the penalties were, I have to admit that the tussles were pretty damn entertaining. Love Nolan and his big clean hits plus his glorious hair flip. Even more entertaining was that while Kassian, Stanton, Nolan and Carcillo got called for fighting one another, Tom Sestito got 10 for just being an asshole in general, I assume.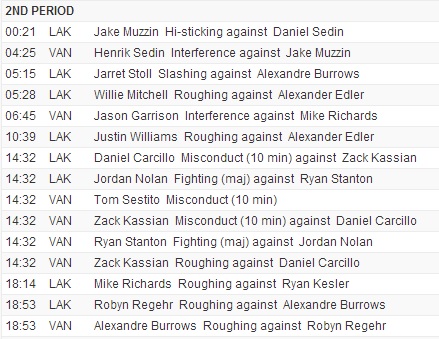 Way to be, guy.
Momentum was on their side and Vancouver used the Kings' sloppiness to their advantage. Tanev fired off a long shot and beat Scrivens to tie it up. No surprise there; you could feel it coming.
Period 2 means you can only get 2 SOG right, is that how it works? 2 shots, 0 goals and 27 PIM? This second period was agony.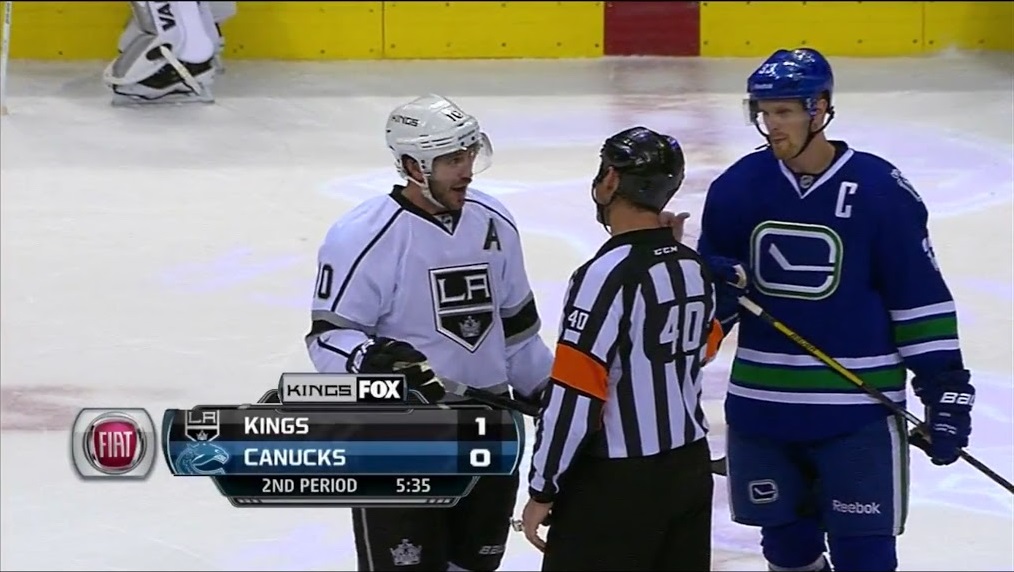 Gotta love Mike Richards sassing the refs, though. Mike Richards forever!
The 3rd was where it all happened. And by that, I mean the Kings continued to get penalties (WHY???), and eventually the Canucks capitalized on it. Henrik Sedin scored a power play goal, giving Vancouver the lead and forcing me to weep while gesturing at the penalty box. Thanks, dudes.
The Kings weren't done yet. The reunited Carter-Richards-King line did some work as King shuffled the puck back up to Carter who passed it to a patiently waiting Richards in front of the net.
What a beauty.
Love and adulation aplenty to Ben Scrivens who, once again, saved the day and kept the Kings in the game.

"Look at how hard he's working for you, Kings!!! Score him a fucking goal!!!" – me, forever, for whoever is in goal for this team.
Thankfully, overtime ended as soon as it began, because I just could not take any more of this game. Kopitar was looking out for us all, and 48 seconds into overtime, Voynov dumped the puck in, hustled and beat Bieksa to pass to Kopitar in front of the net. Papa Kopitar said during the intermission that he had a feeling they would win, and Anze delivered.

It's particularly fitting since failed plays by Kopitar lost the last couple of games for the Kings. Redemption!
Listen to the sweet sound of Canucks fans' crushing disappointment!!! Once again, the Kings were sloppy and undisciplined but managed to come back and scrape together a win, the point streak continues, and Ben Scrivens was phenomenal in net with 37 saves. In Scrivens We Trust. With that stellar performance, that's got to deserve a star or someth-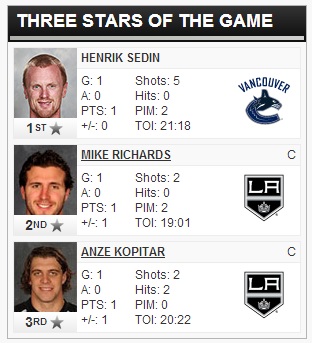 Oh.
Related Posts By Category
2 Comments to "LA Kings at Vancouver Canucks: Winning it For the Dads!"