Senators at Kings: Who Needs A Democracy Anyway?
By Diane Phan
In Blogs
Oct 10th, 2013
3 Comments
After a disappointing home opener both in scoring and team chemistry, there was was no where to go but up (so we all said, fingers crossed).
The Kings came out strong in the first period, netting three in a row. Dustin Brown remembered that he's an elite left winger and did what he does best: being physical, being a pain in the ass who draws penalties, and scoring some goals.
The first goal came when Brown was freed from the sin bin and jumped right into the play, tossing a nice one, unassisted, into the back of the net.
"Hey, I'm your captain, Dustin Brown. What's up?"
Not one to be left out of the action, Carter scored a PPG after a couple of rebounds with a wide open net, Anderson in full "draw me like one of your French girls" mode.
To be fair, who wouldn't want Carter to draw them like one of his French girls. He loves designing after all.
The second Brown goal was a sweet little tip-in that came from a set-up pass from Noted Playmaker Jeff Carter.
At this point, Jeff Carter has a goal and an assist, WILL NO ONE FIGHT HIM SO HE CAN GET A GORDIE HOWE HAT TRICK?! WILL WE JUST LIVE IN AGONY THAT WE DON'T GET TO SEE THIS? He can be pretty scrappy, and totally made someone he fought cry once, so someone tussle with him please. Just, you know, not the face.
Eh, okay, maybe it doesn't really matter.
"Holy mackerel," said Kings fans, "three goals in one period! Does this mean that our Los Angeles Kings have their chemistry back and will play a full 60?!" Well, no because as history dictates (four games is totally a legitimate sample size, right?), the Kings have a sloppy second period.
Stuff happens, Pageau scores, and Bob and Jim spend a whole lotta time, not talking about the game and instead talking about Tomas Hertl. (Note: Hertl is great! Anyone who is upset about Hertl is not our friend!)
Into the third, the Kings are still up 3-1, so it's probably cool and fine and what could happen? Dustin Brown giveth and he taketh away, as his penalty leads to an Ottawa power play where, Future King (oh please, oh please let us take more nice things away from the Flyers) Bobby Ryan gets his first goal as a Senator.
Truth time: I was totally pleased for him. LOVE YOU AND YOUR CATS BOBBY RYAN!
Alright, 3-2, is a little closer than is really comfortable, but the Kings have a solid and dependable defense that has been totally in sync and can weather this storm, right? RIGHTAHAHAHA?! At least Martinez is back, and his good looks are holding down the blue line while the Kings figure out their ever delightful, 8 defenseman shuffle.
Also, to be honest, after the little gaffe that occurred on Monday, I'm real surprised that the Kings didn't choose to start their top goalie in net.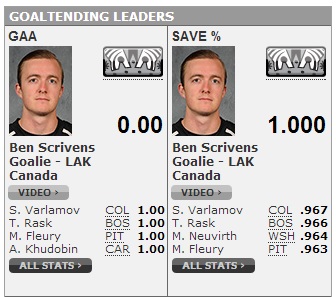 What's the over/under on how long this will continue to be true?
But I guess that guy that was between the pipes instead was pretty alright.
Yeah that ain't bad.
Ok, that's pretty damn nice as well. All hail Jonathan Quick and his skill at doing the splits.
The Kings go on the power play for the last 1:30 of the game, and everyone crosses their fingers that they'll score, get their two points and go on their merry way, but LOL NOPE. Why keep the 3 goal lead from the first when you could be tied at the end of the third! Into OT!
Luckily, Handsome Prince Jeff Carter has this under control. 28 seconds into OT, Richards takes a wrister from the point, and Jeff Carter deflects it into the net. The stadium erupts! We all rejoice the goal and his face!
I really don't think 82 in 82 is too much to ask.
Jeff Carter, third star of the Kings for the game, first star of the league for the night, and first star of our hearts for always. And since Jeff Carter ended it in LA, I'll let him end it here.
 YES.
Related Posts By Category
3 Comments to "Senators at Kings: Who Needs A Democracy Anyway?"